Michigan Brick Paver Driveways
Are you searching for an experienced driveway paver contractor to replace or repair your concrete or paver driveway in Michigan?
Domenico Brick Paving has decades of experience with paver driveway projects, we will quickly and properly install your paver driveway with a large selection of driveway paver colors and patterns to choose from.
Have you been thinking about an alternative to a poured concrete driveway in Michigan?
Domenico Brick Paving can show you hundreds of examples of affordable paver driveway projects using a variety of colors and styles that we have designed and installed for your neighbors in Michigan. Brick paver driveways are beautiful and durable with up the four times the strength of poured concrete.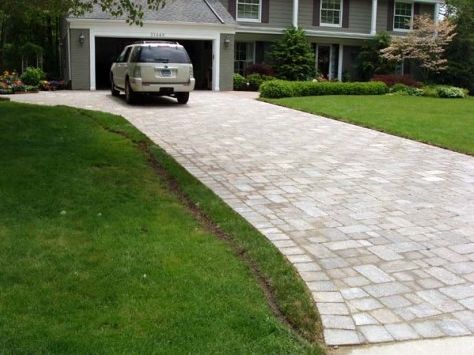 Michigan Driveway Paving Services
Concrete Paver Driveways
Brick Paver Driveways
Paver Driveway Repair
Driveway Pavers
Driveway Paving MI
Driveway Edging
Paver Driveway Design
One quality that driveway pavers possess is their load-bearing strength. Concrete and Brick pavers are manufactured in a controlled environmental and have nearly four times the pounds per square inch compressive strength of poured-in-place concrete. This makes them an ideal material for driveway upgrades and replacement in homes with mature landscaping. Displacement caused by maturing landscape trees and shrubs can be easily corrected by lifting the pavers, re-compacting the base and then resetting the pavers. A significant improvement over replacing an entire cement driveway.
Permeable Pavers for Driveways in Michigan
Permeable pavers are an environmentally friendly solution for paver driveway construction. These pavers are installed to provide drainage into the sub-base and ultimately the water table. Below are benefits for the use of permeable pavers in your driveway construction.
Permeable Pavers are an excellent choice for green driveways in Michigan
Permeable Pavers help to keep rain water out of the city storm drain system
Reduce the demand on the city sewer system
Help the ground water system maintain natural levels
Can be used to collect rain water for irrigation or other uses
Concrete Paver Driveway Contractor MI
If you would like a free quote from an experienced driveway paver contractor call Domenico Brick Paving today. We have many past concrete paver driveway projects in Michigan for you to view in a variety of paver colors and patterns, and will install your paver driveway to last much longer that a poured concrete driveway.