Landscape Design Contractor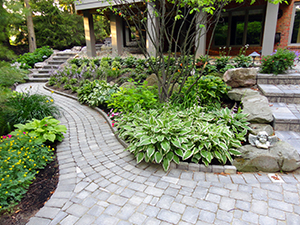 Domenico Brick Paving and Landscaping is a full service landscape design company located in Birmingham, Michigan. Our goal is to provide you with the best customer experience possible by listening to your ideas and providing you with a creative landscape design and attention to detail from inception to completion.
We can design and build your ideal landscape with a creative and detailed approach. We have award winning designs and our dedicated staff will work with you to design and build a landscape to enhance the beauty of your home or business.
Domenico Brick Paving Landscaping and Concrete is a landscape design company providing high quality landscape design services including:
Landscape Design Services
Landscape Design
Garden Design
Shrub and Tree Planting
Perennial Planting
Flagstone patios and walkways
Water features and fountains
Brick Pavers
Landscape Construction
Patio Design
Brick Paver Porches, Patios, Walkways, and Driveways
Landscape Maintenance Services
Annual Planting
Flower Beds
Yard Clean up
Shrub Trimming / Hedging
Mulch
Topsoil
Stone and Gravel
If you have questions or would like a quote please call us today. Take a look at our award winning landscape designs in our photo gallery. Domenico Brick Paving is a landscape design contractor capable of handling a wide range of commercial or residential landscape design projects.
We are happy to answer any landscape question you may have
We understand that buying a patio or re-landscaping your property is not something people do every day
We understand people are sometimes hesitant to ask questions for fear of seeming unknowledgeable. We don't expect people to be knowledgable. That's our job!
We are always happy to answer questions and explain construction details. There are no stupid questions.
Every design is custom to each individual request. We ask questions about how the client wishes to use the space, consider sun and shade ratio and timing, take into account lifestyle and personal aesthetics, future maintenance requirements, budget, etc.
We are happy to work on multi-phase projects. We understand that sometimes budgeting precludes "doing it all at once", and that larger projects may need to be completed over a couple of years.
7 year warranty on hardscape construction means we do it right the first time. (We don't want to be called back for repairs.)
Domenico Brick Paving & Landscape Design Information Berkley MI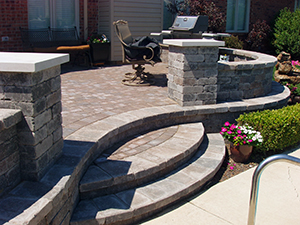 Domenico Brick Paving Landscaping & Concrete is licensed and insured.
Domenico Brick Paving Landscaping & Concrete is a licensed plant retailer in the State of Michigan (Nursery/Plant License).
Domenico Brick Paving & Landscape has an A+ rating and is a member in excellent standing with the Better Business Bureau (BBB).
Member of the Michigan Nursery Landscape Association (http://www.mnla.org)
Domenico Ercolani is a licensed builder in the State of Michigan
Domenico Ercolani has been in the cement and paver business more than 25 years.
Unilock provides a lifetime guarantee on the structural integrity of its paving stone.
Domenico's offers a 5 year warranty on the installation of the pavers.
Domenico Brick Paving is a Unilock Authorized contractor.
Unilock authorized contractors:
Are craftsmen. Certified contractors attend regular product installation training sessions to earn and keep their Unilock certification
Must have been in business for a minimum of 3 years
Have a good credit standing
Provide a written guarantee
Domenico's offers zero down. No payment is due until the first day of work for residents of Berkley MI
Domenico's has an extensive list of satisfied landscape design customers who would be willing to speak with you about their experience with us.
Call Today for a free landscape design estimate
Call today and schedule a free estimate on your landscape design project including, landscape design, garden design, shrub and tree planting, perennial planting, water features and fountains, flagstone patios and walkways.